September 20, 2023
On September 13, 2023, Marketdive became a partner of Dotdigital, an IT solution provider offering Marketing Automation (MA) services. As a Dotdigital partner, Marketdive is committed to contributing even more significantly to solving the challenges of E-commerce businesses through the implementation and support of Dotdigital solutions.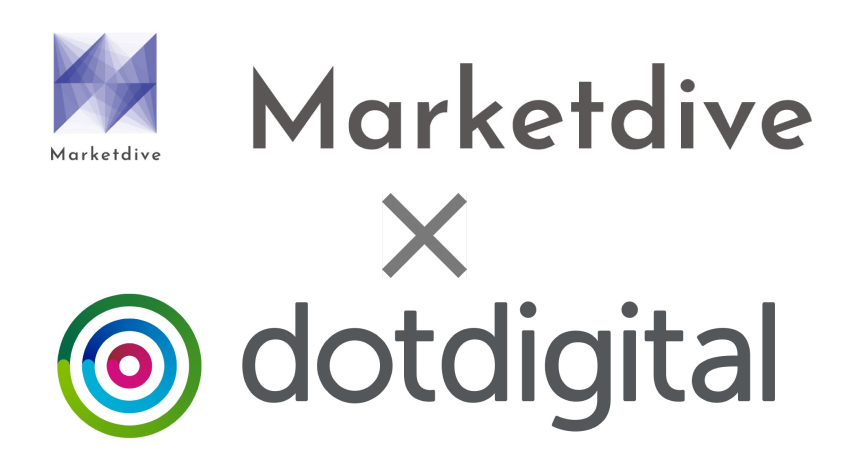 About Dotdigital
Dotdigital is a Customer Experience and Data Platform (CXDP) that offers a no-code, all-in-one marketing automation solution, providing support for multi-channel, multi-store, multi-currency, and multi-language capabilities. With Dotdigital, businesses can create touchpoints with customers across various channels such as email, SMS, LINE, advertising, web, social media, and app notifications.
Furthermore, Dotdigital facilitates centralized data management by integrating with E-commerce platforms like Shopify, Salesforce, Adobe Commerce (formerly Magento), as well as ERPs like Microsoft Dynamics 365, Oracle NetSuite, and others.
Dotdigital supports over 4,500 companies, including a wide range of industries, with notable clients such as KDDI, Tshirt.St and Kanademono in Japan, and Converse, DHL, and British Airways, among others in overseas.
Additionally, Dotdigital is the first Marketing Automation tool to achieve ISO 14001 certification, emphasizing its commitment to environmentally friendly practices by using only renewable energy sources.
About Dotdigital partner
A Dotdigital partner is a part of Dotdigital's partnership program. Companies or organizations selected as Dotdigital partners collaborate with Dotdigital to provide assistance in the implementation and operation of Dotdigital for users. They work together to address the challenges faced by businesses and contribute to their solutions.
Marketdive's future initiatives
Marketdive is a Shopify partner that offers e-commerce and digital marketing consulting services, assists with Shopify store setup and development, and develops Shopify apps. With their recent appointment as a Dotdigital partner, they are expanding their services to include Dotdigital implementation and operation support. This expansion allows them to address e-commerce businesses' challenges more comprehensively and execute strategies that may have been difficult to achieve with traditional Shopify features and apps. Their goal is to provide even greater value to e-commerce businesses.
This article is made in Japanese and translated into English. The Japanese text is the original and the English text is for reference purposes. If there is any conflict or inconsistency between these two texts, the Japanese text shall prevail.