In February 2023, Product Imager: Bulk Add IMG, a Shopify app developed by partner "Marketdive", is now available in English. This app automates the process of adding product images for stores built with Shopify and makes product image registration more efficient.
Tokyo, Japan – February 3rd, 2023 – Marketdive, a Shopify partner, is excited to announce the English release of their revolutionary app, Product Imager: Bulk Add IMG. This app streamlines the process of adding product images to ecommerce stores built with Shopify.
Traditionally, adding product images to a Shopify store involves copying URLs of product images one by one to a CSV file. This can be a time-consuming task, especially for stores with a large number of items and images. However, with Product Imager: Bulk Add IMG, all you have to do is process the CSV file exported from the app and upload it again to the app. This will automatically add the images on the product pages. This makes adding a large number of product images, or managing a wide variety of product numbers and variants, much more efficient.
Marketdive developed this app with the goal of helping eCommerce agencies and merchants improve their work efficiency, based on their own experiences building and operating ecommerce stores on Shopify. The app was first released in Japanese in September 2022, and has been updated regularly since then. Now, to make the app available to a global audience, Marketdive has made it available in English.
"Adding product images to an ecommerce store built with Shopify can be a time-consuming and difficult task for many ecommerce agencies and merchants. Despite searching for a solution to this problem, we were unable to find a suitable one. That's why we decided to develop our own Shopify app, Product Imager: Bulk Add IMG. We believe this app will save users time and allow them to focus on more strategic tasks," said Takashi Sawada, representative of Marketdive.
Product Imager: Bulk Add IMG is an easy-to-use app that comes with a full support system. Even those who are not familiar with Excel and CSV can use the app with ease. The app features a user-friendly interface, detailed user guide, and tutorial videos. Marketdive is dedicated to helping ecommerce agencies and merchants be more productive through the use of this Shopify app. Users can try the app for free with the trial plan. The app is available at the Shopify app store at https://apps.shopify.com/productimager
Example of how the app improves efficiency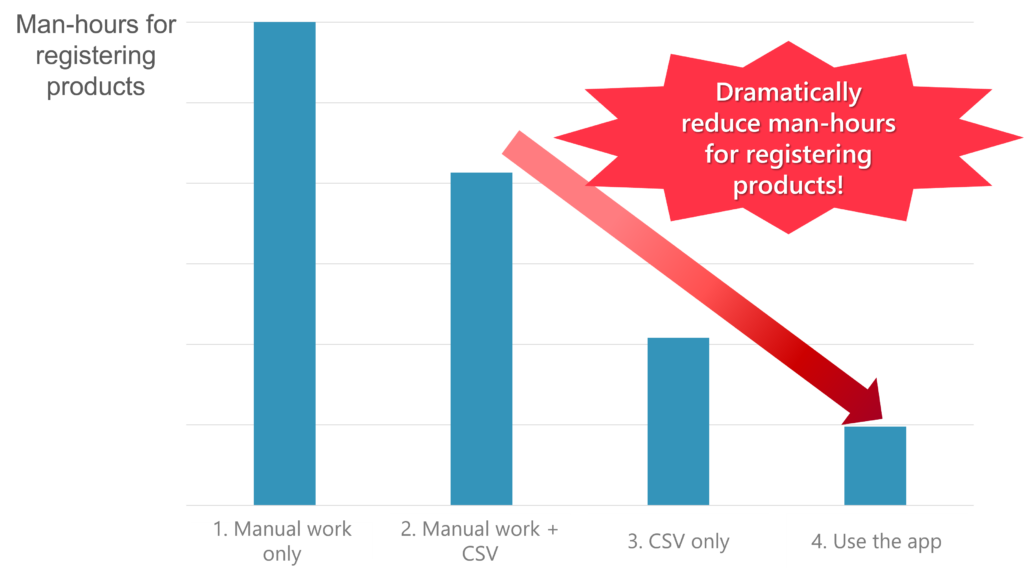 About Marketdive
Marketdive is a Shopify partner based in Tokyo, Japan, that is dedicated to helping businesses reach new heights through the use of the Shopify platform. Our motto is "Dive into next markets" and we are committed to continuously developing and incorporating new tools to help businesses succeed. Our team is led by representative Takashi Sawada. For more information, please visit our website at https://marketdive.net/ or reach out to us via email at info@marketdive.jp.