From around the start of the year 2023, a big AI boom centered around "ChatGPT" has been taking place. Even though many online store operators may think, "this could affect my work" or "it would be good to adopt AI," they may not know specifically how to utilize AI. Of course, as AI-related services continue to be developed, there is a high possibility that existing services will be replaced by better ones. However, I am confident that actively utilizing and devising AI now will enable more powerful utilization of AI in the future.
In this article, we will introduce AI usage methods for images and text. We hope you will read this article as one of the ideas that may be applicable to your store.
[Recommended for]
Those who want to use AI for their own online store operations
Those who are looking for efficient image processing and banner creation methods
What is the relationship between AI boom and online store operators?
Background of AI development
In this article, we will provide our company's perspective while keeping academic explanations to a minimum.
The current AI boom is backed by rapid technological innovation, but it did not happen suddenly. Since the 2010s, services that use "image recognition" and "speech recognition" through technologies such as neural networks and deep learning have been developed.
Examples of these are Siri and face recognition on the iPhone, which are familiar services that utilize speech and image recognition.
Furthermore, with the introduction of a technology called Transformer (a deep learning model), AI has evolved further. This has led to the emergence of conversational AI, represented by ChatGPT, with significant improvements in natural language processing capabilities.
Although this is a very rough explanation, it can be said that AI services that handle the following two areas are prevalent today:
AI for online store operators
Now, images and text are likely to be very important to online store operators.
These include:
Product images
Banner images
Product descriptions/catchphrases
Advertisements
By devising these, you can significantly impact important indicators that make up sales, such as CTR (click-through rate) on the web browser search results of your company's website, access, bounce rate/visit duration, and CVR (conversion rate).
From the historical background of AI technology mentioned above, it can be said that AI is competent in all of these areas. In the following chapters, we will introduce specific services that can be used for each task.
AI utilization for images
Smartphone app for image processing: Photoroom
Photoroom is an image processing service provided by Photoroom in Paris, France.
For those who take and process product images for online stores, background removal alone can take up a considerable amount of time.
Photoroom can process image clipping at a very high accuracy and speed. It can also process up to 50 images at once.
In addition to background removal, it is also very attractive that it can perform background synthesis using AI and processing that is tailored to the purpose of posting. It also offers various design templates for different purposes, not just images used on product pages, such as Google Shopping ads, display ads, banner images, and various SNS (such as Instagram Reels).
By finding a template that matches your brand image or product, you can expect to improve your CTR and CVR.
[Left: Original image] [Right: After processed]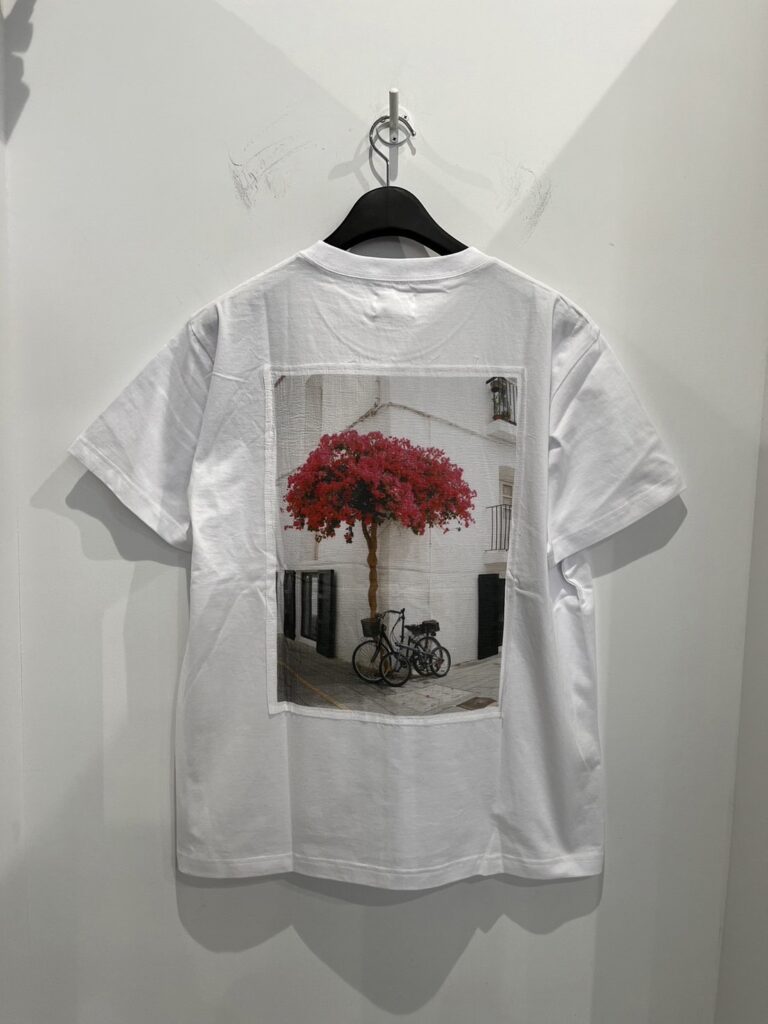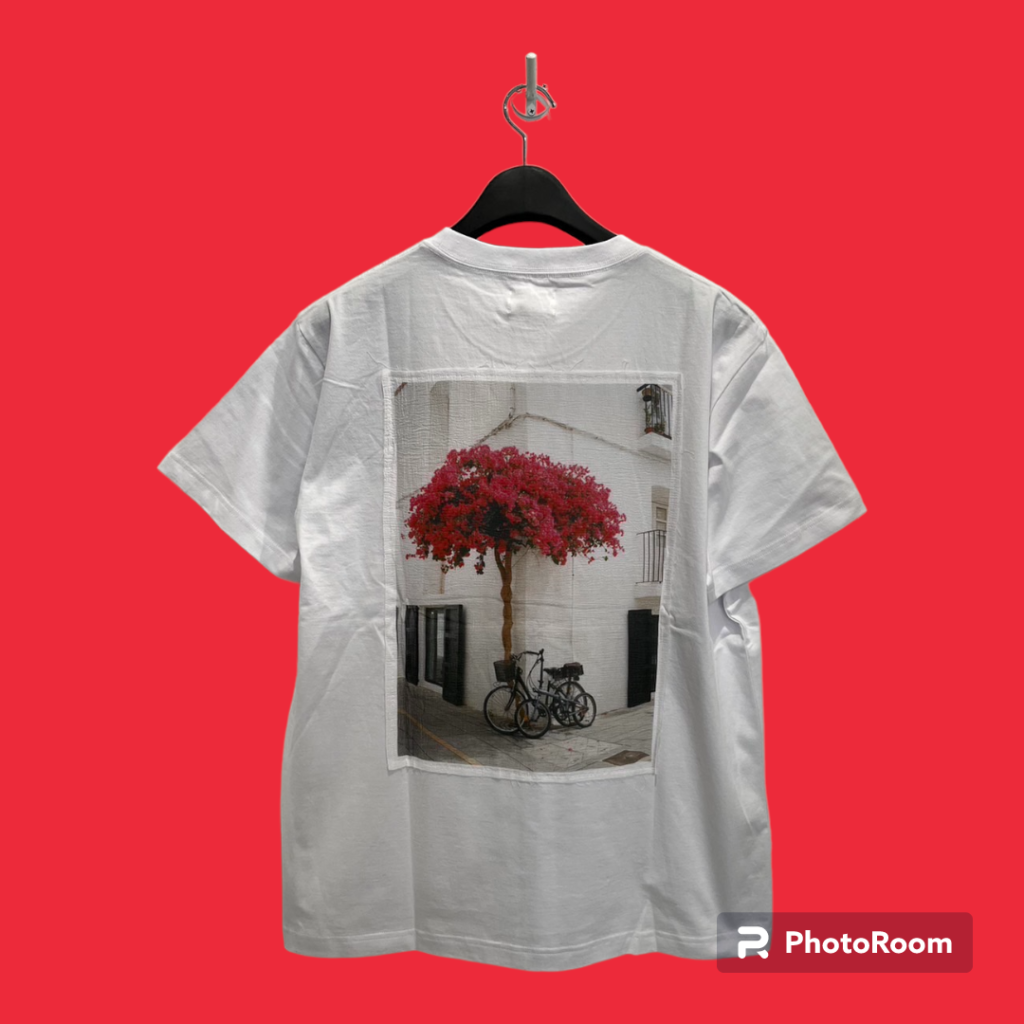 [Examples of processed image]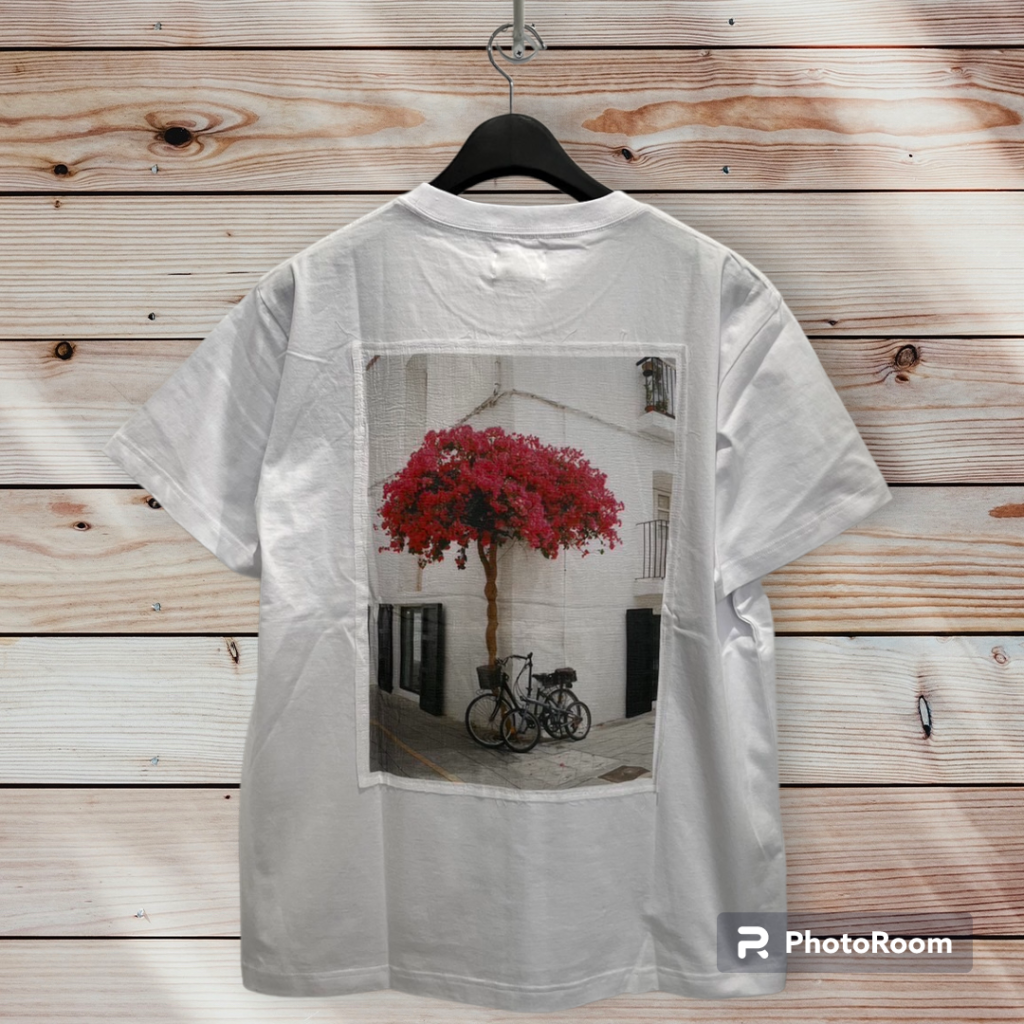 AI image generation service: Dreamstudio (product images and banner images)
Just as ChatGPT is well-known for conversational AI, Stable Difussion is a well-known model for image generation.
You may have seen illustrations generated by AI services using Stable Difussion on Twitter and other platforms. (As of April 1, 2023)
These services that use Stable Difussion may also be useful for generating product images and banner images. Among them, DreamStudio is a web service that does not require difficult environment construction or app installation.
The usage is very simple.
Input the image you want to generate using text in the "Prompt" section. You can also specify unwanted elements by inputting "NegativePrompt."
Select the design direction of the image to be generated from "Style," and select the aspect ratio from "Settings."
"Model" is a function that specifies the language model to be generated. The latest version consumes more credits.
It operates on a credit system where you purchase "credits" like points and consume them to generate images. You can purchase 1,000 credits for $10, and generating four cases with the latest model consumes about 15 credits. If you create four cases every time, you can generate about 75 times for $10.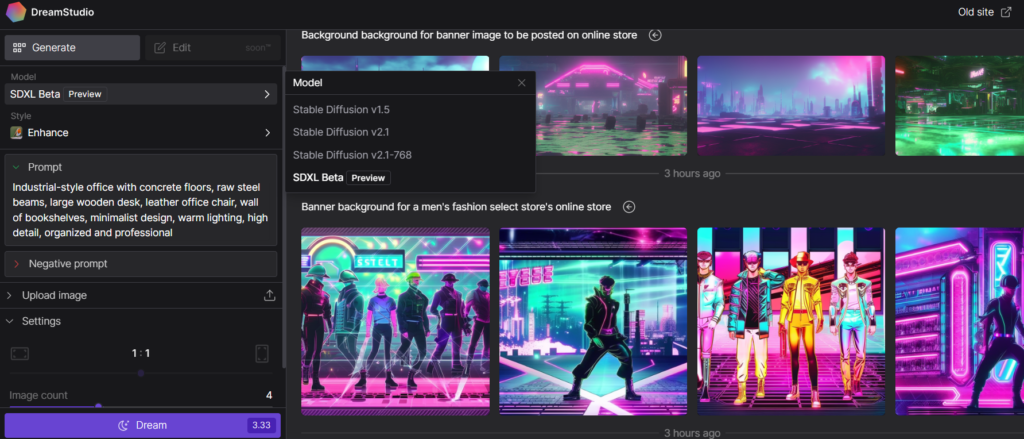 AI Image Generation Service: MidJourney (Product Image/Banner Image)
Similar to DreamStudio, there is also a image generation service called MidJourney that does not require any environment setup or app installation.
This is not a web service, but a service that generates images when you enter text in a chat room after joining a channel on Discord. The service is also based on StableDifussion.
Prompt Editor: MidJourney Prompt Helper (Banner Image)
Often, specifying only the image you want to generate in text does not quite achieve the desired image style. Therefore, by making a small change in the command prompt, you can get closer to the image you want to create.
MidJourney Prompt Helper is a service that helps generate prompts.
Since it operates on the same language model as DreamStudio introduced earlier, if you enter the prompt created on MidJourney Prompt Helper in DreamStudio, there will be a significant effect.
MidJourney Prompt Helper Official Site
Utilizing AI-Text Edition
ChatGPT (Product Descriptions/Advertisements)
It goes without saying that ChatGPT, the catalyst of the AI boom, is an excellent tool for generating ideas for product descriptions, catchphrases, and advertisements.
To obtain more accurate responses than simply inputting short messages like chatting with a friend, it is advisable to devise prompts. By searching for keywords such as "Chat GPT prompts," you may find a way to ask questions that suit your purposes.
However, the members of your organization are the ones who know the most about your products. Concrete information, such as "what points are supported by our customers" and "advantages that we haven't conveyed," which is possessed by members of your organization, is invaluable. By making effective use of such information, you can acquire new customers and customer satisfaction.
By adding more specific information when asking questions on ChatGPT or by adding company-specific arrangements to ChatGPT's responses, you can create better text.
Even if you utilize AI to increase efficiency, be careful not to neglect these elements.
Notion AI (Product Descriptions/Advertisements)
Notion is a multifunctional memo web application that can be used for various purposes, such as document creation, task/schedule management, and idea/Wiki organization. Notion AI is an AI that can be used as an add-on feature of Notion. Like ChatGPT, Notion AI can provide, organize, and translate various information through text.
Using Notion AI to execute instructions similar to ChatGPT may also be effective. One difference between Notion AI and ChatGPT is that Notion AI operates within the web application and can input/output data in CSV format.
Therefore, for online stores, one of the potentially useful aspects of NotionAI compared to ChatGPT is that you can import product data into Notion in CSV format, generate text using Notion AI, and then export it again in CSV format.
If you handle many product numbers, it may be quite time-consuming to copy and paste each one into ChatGPT. In such cases, it is recommended to use Notion AI.
Shopify Magic (Product Descriptions)
Shopify has released the AI-generated product description function as "Shopify Magic". The official blog says:
One of the most time-consuming activities for new merchants is preparing their store for launch. And one of the most important factors for a store's early success lies in well-crafted product pages and descriptions.

Did you know that across all Shopify stores, there are millions of products for sale that don't even have a description? Product descriptions play a critical role in the decision-making process for customers, and improving your descriptions can help drive traffic to your site and increase conversions.

Shopify is here to help, and getting started is simple. Just list a few details about your product or keywords you want to rank for in search engines, and the tool will automatically generate a product description for you right on the product setup page in your store's admin.

Quoted from Shopify Official Blog
Finally
How was it? If you have any image processing or text creation ideas that can be streamlined by using existing AI services described in this article, it would be great.
As mentioned at the beginning, new services are being developed every day, and there is a high possibility that existing services will be replaced by better ones.
Nevertheless, I believe that by continuing to make the most of the existing services, we can create a better store and improve the AI utilization skills of those in charge.
Why not try incorporating AI into your online store operations?
---
We at Marketdive develop and operate Shopify apps. If you want to streamline the registration of product images, not just image processing or description creation, please use our Shopify app "Product Imager".
Product Imager is an app that adds images on the product page of your store in bulk via CSV file. It will free you from tedious work.